HOA Fencing
Hey there, we're Fencemaster! For over 40 years, we've been the friendly faces helping folks in Houston, Texas, get the fences of their dreams. Whether it's for your home or your HOA, we've got you covered. Homeowners Associations (HOAs) play a pivotal role in maintaining the aesthetic appeal and security of residential communities. One crucial aspect of this responsibility is the selection and maintenance of fences. At Fencemaster, located in Houston, Texas, we understand the unique needs of HOAs and provide superior fencing solutions tailored to meet these requirements.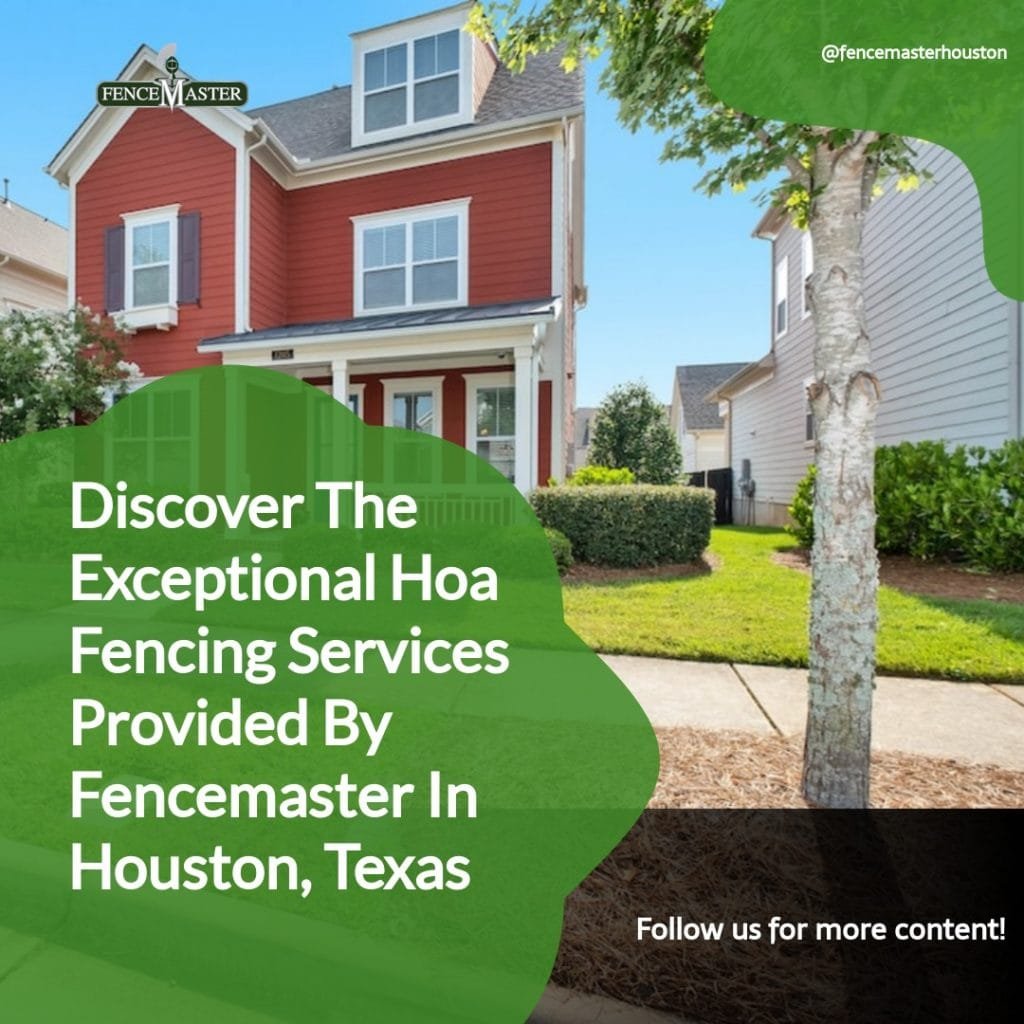 Over Four Decades of Excellence in HOA Fencing
Since our inception in 1979, we have established a strong rapport with numerous HOAs across the country. Our commitment to quality, responsiveness, and professionalism has made us a preferred choice for HOAs. We ensure a seamless experience from the initial request for a proposal to the final product installation, delivering on our promise of excellence that has been honed over four decades.
Check Out Our Cool Specialty Products
We're not just about the traditional stuff. We've got a whole range of specialty products that are all about being innovative and durable:
EcoStone by SimTek: This gives you a natural stone look but with none of the maintenance. Pretty cool, right?
Trex Composite Fencing: For our eco-conscious clients, this is made from recycled materials and looks just like wood. Saving the planet never looked so good.
Ultra Aluminum Fencing: Lightweight and strong, for when you want a modern look without skimping on security.
Bufftech Extruded PVC Fencing: This one's a hit for its versatility and resilience. Plus, it comes in all sorts of styles and colors.
And don't worry, all these come with a warranty. We've got your back.
Fencing Options? We've Got Plenty!
We've got a whole menu of fencing options for whatever you need:
Privacy Fencing: Inwood, brick, precast, or vinyl. Your secret garden is safe with us.
Chain Link Fencing: Strong, durable, and cost-effective. We've also got decorative slats in all sorts of colors, because who said fences can't be fun?
High-Security Fencing: For when you need a little extra security, our anti-climb fences are just the ticket.
Fancy Some Ornamental Iron & Aluminum Fencing?
If you're looking for something a bit fancy, we're all about ornamental iron and aluminum fencing:
Custom Fencemaster Built Wrought Iron: Handcrafted by our team, for when you want to add a little elegance.
Merchant Metals Secure Weld Plus: Beautiful and strong – the best of both worlds.
Ameristar Products: High-quality, innovative, and straight from an authorized distributor.
Ultra Aluminum: Lightweight, durable, and stylish – a fan favorite for both homes and businesses.
Brick Fencing for a Classic Look
Fancy a traditional look? Brick fencing might be your cup of tea. From simple walls to ornate columns and signs, we can make your property look timeless and classy.
Experience the Fencemaster Difference
We cordially invite you to explore the services offered by Fencemaster. Our organization prides itself on delivering superior quality, maintaining utmost professionalism, and ensuring customer satisfaction. Contact us today and allow our team of experts to assist you in designing and installing the ideal fence for your residential or HOA properties in Houston, Texas. At Fencemaster, your vision is our mission.
Contact Us
For more information about our services and to request a proposal, please contact us:
Contact us:
Service options: Online estimates · Onsite services
Address: 11255 Eastex Fwy, Houston, TX 77093
Areas served:
M-F: 9am – 5pm
Appointments: fencemasterhouston.com
Experience the Fencemaster difference and enhance the appeal and security of your HOA community today.