Step 1 Remove the string from the stakes and tie it around the terminal posts, keeping the string on the outside of the post and 4 in. below the top of the post. Be sure the concrete has hardened enough so that the posts remain plumb. (FIG. 3)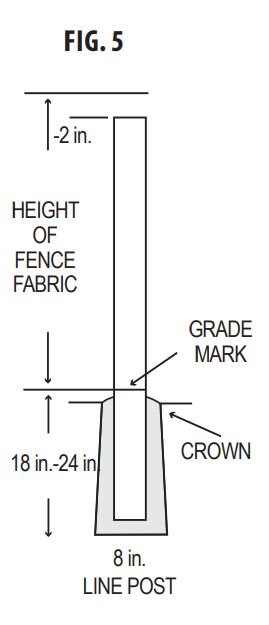 Step 2 Measure the distance between terminal posts. Using the line post spacing chart, determine the location of each line post. If setting posts in concrete, mark and dig the line post holes. Make sure the hole is off-centered on the string line so that 2/3 of the hole is on the inside of the string. (FIG 4) If driving line posts, mark post location with a stake.
Step 3 Mark the grade (ground line) on the line posts. Measuring from the top town, subtract 2 in. from the fabric height and mark line posts with chalk. (Height of fence fabric – 2 in. = grade mark). (FIG. 5)
Step 4 If setting posts, place posts in the hole on the inside of the string line and fill with concrete. Use a trowel to crown the footer for drainage. Check with level to ensure the posts are plumb, keeping the top of the line post even with the string. (FIG. 3)

Caution: Grade line must never be buried. Note: If not setting posts, drive posts into ground at marked locations. Look down fence line to ensure the posts are in alignment (straight), adjust as required.