Why Should I Choose a Wrought Iron Fence from Fencemaster of Houston?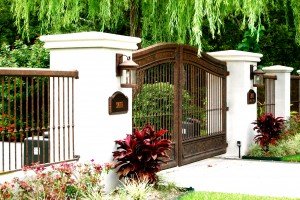 A wrought iron fence from Fencemaster of Houston, your premier Houston fence company, is an excellent choice for your fencing needs. Wrought iron has been the standard for centuries because of the robust quality provided along with beautiful, creative designs. It is the everlasting quality of the material that makes it the most preferred one as far as customers' choice is concerned. A wrought iron fence gives you the ability to add significant curb appeal to your property through anything from traditional columned styles to sleekly modern designs.
The most significant feature of gates that are made of wrought iron is that they add a tremendous amount of security to your property. Fencemaster specializes in driveway gates as well as walkway gates. Our driveway gates can be made automatic by adding an operator. With the click of a button, your gate will open and your can safely drive through. No need to get out of your car to open the gate, it will automatically open with your remote. These operators can also have a call-box that ties into your phone system for additional security. Safeguarding your property through a stable means of protection is easily possible through these gates.
Our gates and fencing can be installed by themselves and be just beautiful. Or you can add in masonry columns to take it to another level. We can custom design you stunning columns in brick, stone, or stucco to match your home, that will be placed between individual sections of the wrought iron design. If you have a gate, the gate will be surrounded by two more columns, bringing your entire property's look together.
The finish of your wrought iron gate by Fencemaster of Houston, your premier Houston-based fencing company, can be custom designed to match the aesthetics of your home. From custom paint colors, to specialty finishes, we can create something to match the look you are trying to achieve. Our wrought iron fencing and gates can also be powder coated, which adds significant life to your investment. This prevents rusting and wear-and-tear on your fence and gate, adding years of beauty to your fence.
Give us a call or email us at Fencemaster of Houston today, and let us start designing your custom wrought iron fence and/or gate! Our salesmen are eager to help you choose a design that compliments your home and property.